E-BIKE Ride through Satoyama scenery and traditional Satoyama experience
*Satoyama: settlement pattern of living in upland valleys and cultivating slopes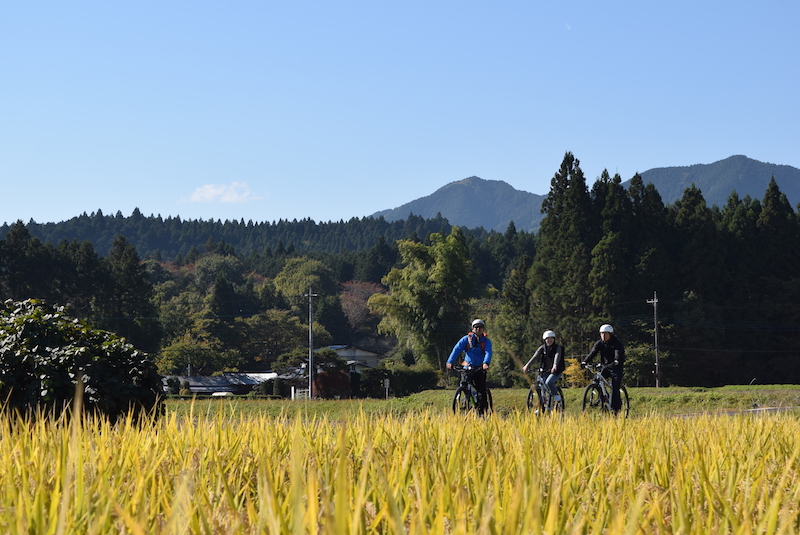 Let's go beyond the tourist areas of Nikko and experience the real daily life of farming villages, terraced rice fields, and clear streams while feeling the scenery of satoyama blessed with clean water and mountains.
Nikko is famous as a place where rich nature and culture remain, but the background is maintained by the wisdom of the people who live in Nikko, cooperation between them to make a living, love for the community, and coexistence with nature.
The people of Nikko have enriched their lives by drawing water from the Daiya River, which flows from the Nikko Mountains, into their paddy fields since ancient times.
The rice in the terraced rice fields of Nikko, which is served for lunch, is also carefully grown using the clean water from the natural slopes. One of the attractions of this tour is that you can visit a local farmhouse and enjoy talking about rice and the region while having a homemade meal, a unique opportunity to discover Nikko.
The experience includes cycling around the World Heritage area, off-road cycling along the Daiya River, strolling through the satoyama scenery, lunch at an old farmhouse, Guinness Nikko Cedar Path and more!
*Planned distance to travel is about 33km. Electric assisted E-bikes are used, so you can enjoy cycling without getting tired.
Season
Early April to late December
Meeting Place・Time
9:30 NIKKO BASE NAOC日光ベース
3-11 Honcho, Nikko City, Tochigi Prefecture
*The above times are departure times. Please come to the meeting place approximately 15 minutes before.
*We offer a free shuttle service from nearby inns and Nikko Station. Please let us know if you would like one.
*If you are driving, please use the nearby paid parking lot, Time Space Nikko Yasukawacho.

Required Time
About 5.5 hours
* Time from arrival to departure
End Time
Around 15:00
*Please note that the end time may vary slightly.
Fee
・15 years old and over ¥14,000 (+¥500 premium insurance)

Booking
This tour cannot be reserved through the reservation form.
Please contact us at [email protected] with the following details:
・ Participating tour name
・ Participants names
・ Number of people
・ e-Mail address
・ Phone number
・ Address
What's included
Guide fee
E-Bike rental
Helmet
Gloves
Japanese local cuisine at Nikko's farm
Consumption tax
Insurance fee
Clothing・What to Bring
・Comfortable clothes, as depending on the trousers, the hem is easy to get entangled in the chain.
・Drink
・Ruck sack (The E-Bike does not come with a basket).

Things that are good to have depending on the climate and weather:
・Cold and windproof jacket
・Body wear with heat retention
It is desirable to wear clothes that are easy to put on and take off. You can also bring rain gear,
used during sudden light rain.
We have Backpacks available (rental fee ¥500). Please let us know when you make your reservation.
What we offer:
Our rental bikes are made by the world's leading manufacturers "MERIDA" and "TREK".
This is a full-fledged cycling tour where you can enjoy both off-road and on-road.
Because you use an electric E-bike, you can enjoy cycling without getting tired.
We will show you a secret Nikko that is not listed in the regular guidebooks.
Participation conditions
155cm or more
●We have bicycles of suitable size according to your height. Please let us know the height of the participants at the time of booking.
*Participants who are drunk on the day, have a hangover, or are pregnant will not be permitted to join the experience.
Holding conditions
It will be held with 2 or more participants.
Although it will be held in light rain, it will be canceled in case of heavy rain.
In case of cancellation, we will comprehensively judge the weather forecast etc. and will contact you by 19:00 the day before. However, since it will be a matter of nature, there may be cases where sudden cancellation is unavoidable, so please understand this when booking. We will refund the full amount when we contact you to cancel due to weather, etc.
Tour Layout
*Times are approximate
Meeting/reception (09:15)
Start (09:30)
After finishing the lecture and notes, it's time to start!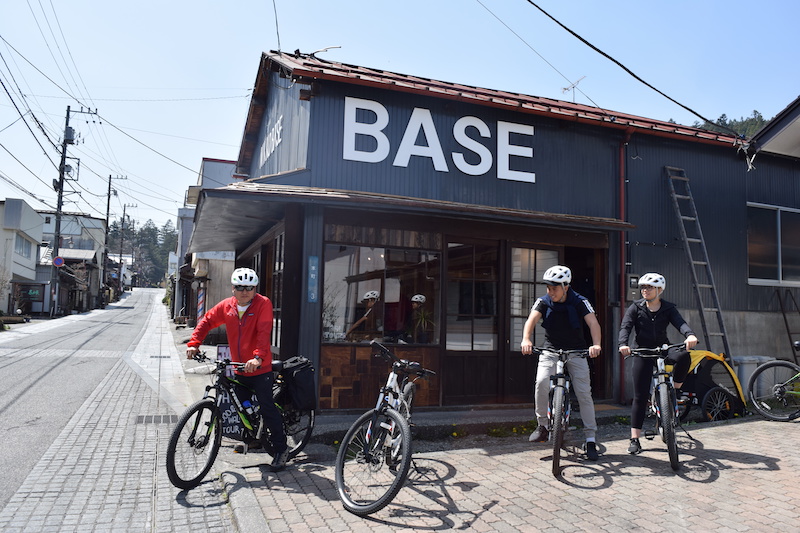 We will start from the World Heritage area.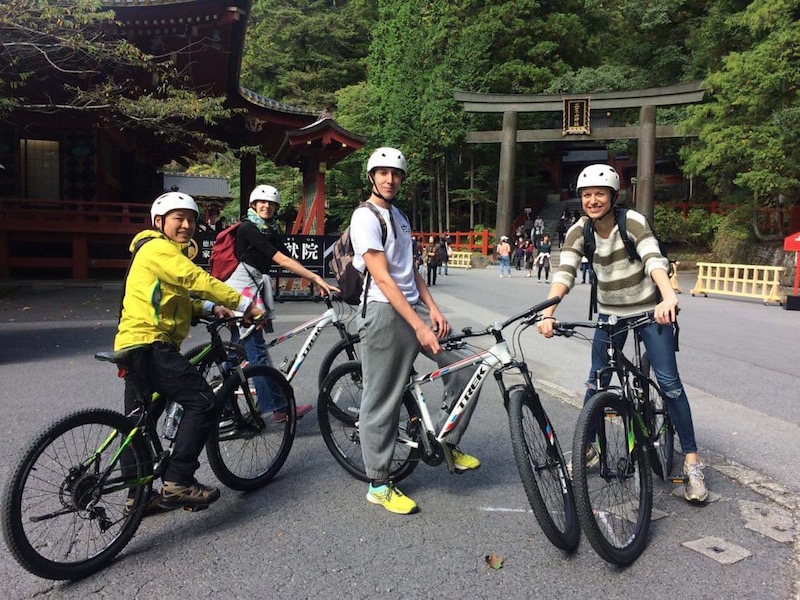 Ride overlooking the Nikko Mountains.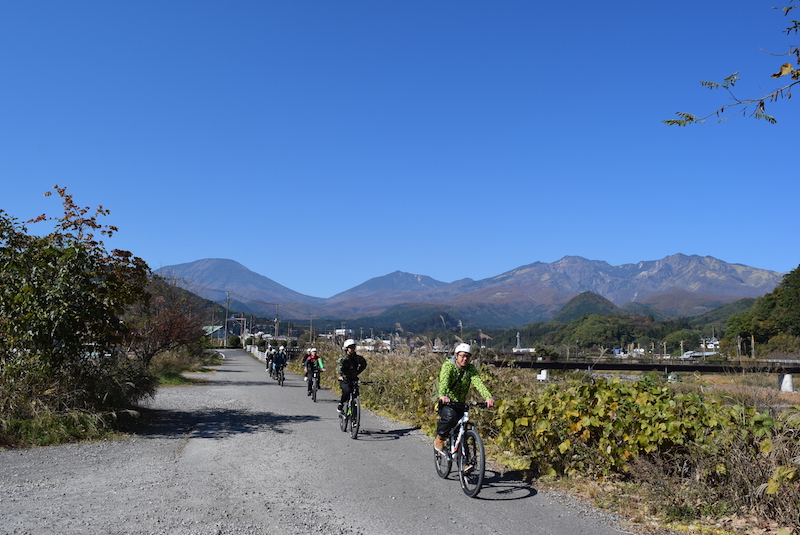 Enjoy both off-road and on-road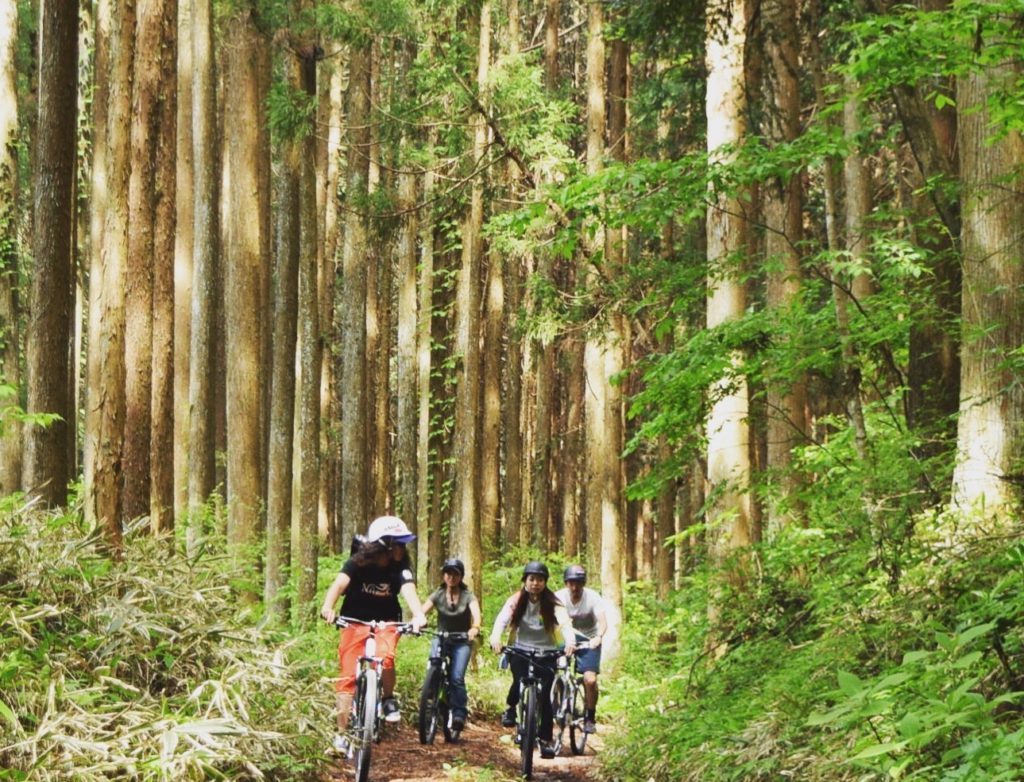 Nikko's delicious rice is carefully grown in this terraced rice fields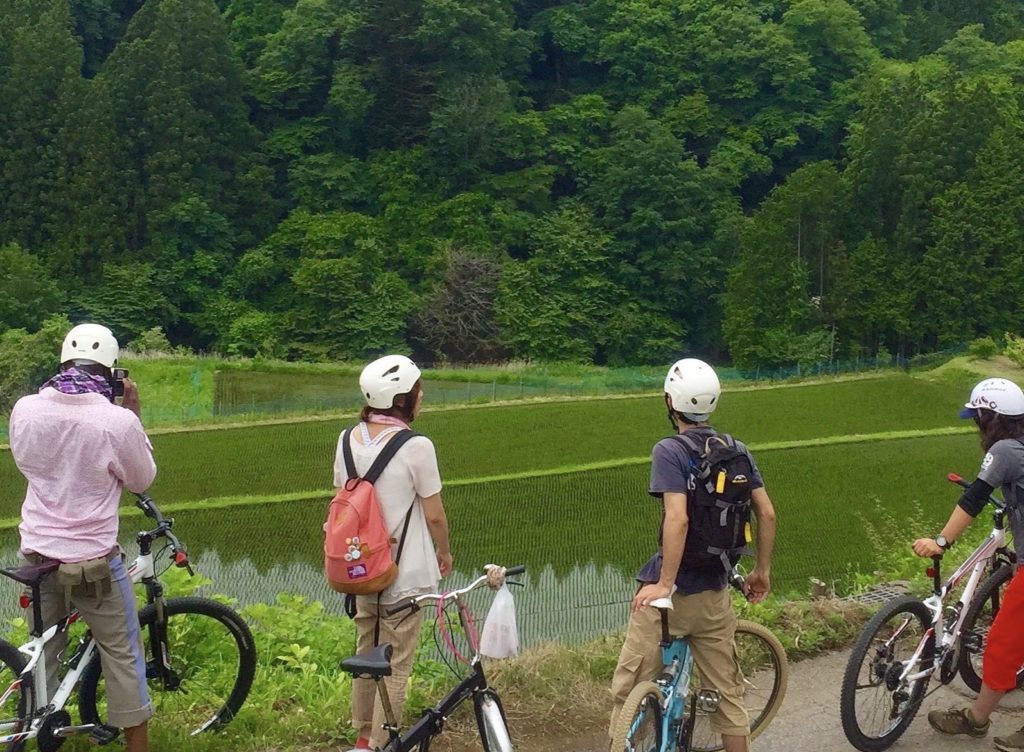 Enjoy a delicious lunch at a local farmer's house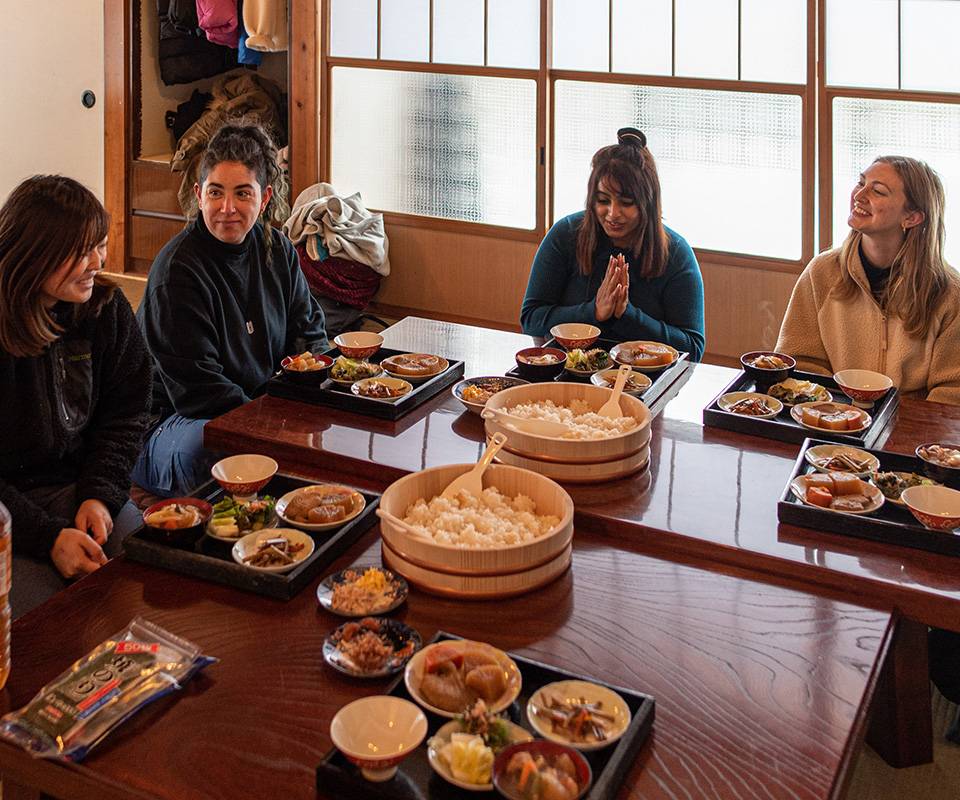 Stories and warm hospitality from the locals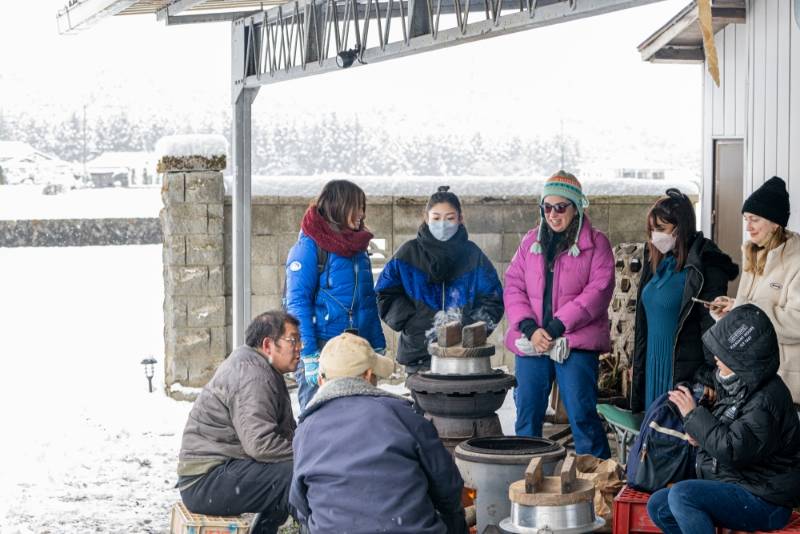 Cycling along the "Guinness world's longest cedar tree-lined street" on the Nikko Highway that leads from Tokyo to Toshogu Shrine, a World Heritage Site. It is the only place in Japan that has been designated both as a special historic site and a special natural monument.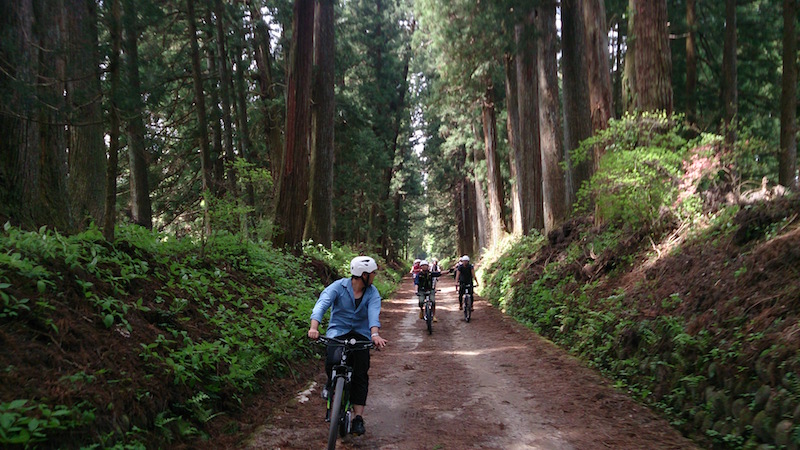 Goal (14:50)
How was your trip to see what life is like in Nikko? We hope you have enjoyed the experience, thank you for coming!