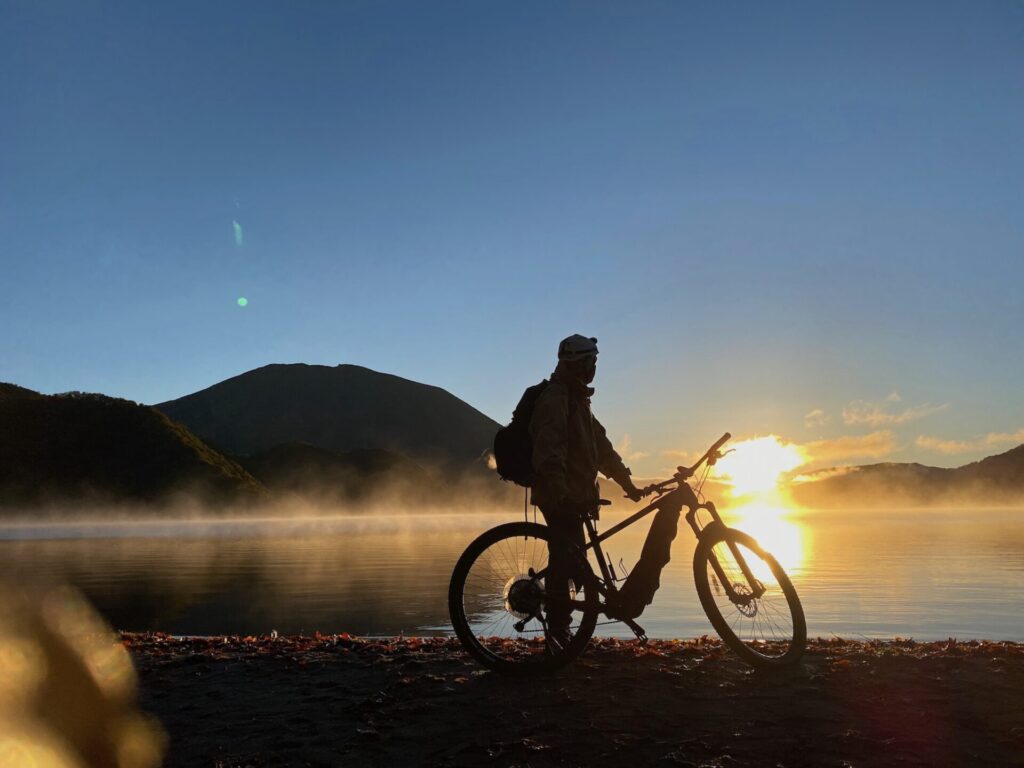 Discover a moment of beauty in the silence.
Let's start cycling as the sun begins to shine over the mountains and shine into the forest. That moment in Nikko National Park is a time for the animals to relax, free from the stressful hours of darkness. Let's ride through the mountains and aim for the lake while feeling the breathing of the animals.
In the early morning, the lake is still and the surrounding mountains are reflected in the mirror-like surface of the water.
Let's go find that beautiful moment!
Season
From September 25th to October 20th
Meeting Location
Nikko Akanuma Parking Lot
*A shuttle service is available to accommodations around Lake Chuzenji (around 7:15am)
Meeting time
7:30am (ending time, 10:30am)
*Please note that the above times may vary slightly.
Time required
3 hours (experience time approximately 2 hours)
Fee
¥18,500 (insurance included)
*For 1 person participating, ¥35,000 (insurance included)
What's included:
Guide fee・Equipment set (eBike, helmet, gloves)・Consumption tax
What to bring
・Warm clothing (minimum temperature on cold days: 5°C)
・Water/Drinks
Who can join
・Over 15 years old
・Height 150cm or more
First timers are welcome.
If you have been drinking on the day of the event, have a hangover, or are pregnant, you will not be able to participate.
Tour terms & conditions
This tour will be held with the participation of 2 or more people. It will be held even in rainy weather, but it may be canceled if there is a danger from rain or other factors.
In the event of cancellation, we will make a comprehensive judgment based on weather forecasts, river conditions, etc., and will make every effort to contact you by 7pm the day before. However, since this is a natural event, there may be cases where we have no choice but to suddenly cancel the tour. Please understand this before applying. If we need to cancel due to weather, etc., we will refund the full amount.
Reservations/Inquiries
To apply for "Early Morning Premium Cycling", please contact us by phone or email.
Tel: 0288-70-1181
E-mail: [email protected] (Representative name, address, phone number, height)
Payment will be made by credit card.
The invoice will be sent to you via email after your reservation is confirmed.