What is snow trekking?
Walking in the snowy mountains. Since the mountain trail is hidden when it is covered with snow, we choose a safe route that is easy to walk and climb, and sometimes we walk through the fresh snow.
Depending on the condition of the snow surface, it may be necessary to wear spikes and snowshoes separately, so use different gears than in the summer.
The snow-covered mountains look different than at other times. Let's experience the charm of the snowy mountains together.
NAOC Unryu Valley Snow Trekking
"Unryu Valley Snow Trekking" is the most popular trekking tour at NAOC.
In Nikko National Park, there is a huge 120m waterfall, Unryu Waterfall, which runs down unknowingly, and Unryu Valley surrounding the waterfall. In the midwinter, the whole area freezes, and different scenery spreads out. We will aim for the valley in the upper reaches of the Inari River and experience the snowy mountains of Nikko on a one-day tour of about 10km round trip.
(There are several rapid climbs, this course is suitable for healthy participants!)
* Two or more guides will always accompany the NAOC tour in case of an emergency.
Season:
Late January to Early February, 2024 (exact dates to be confirmed depending on weather conditions)
Meeting Place and Time:
NIKKO
Tobu Nikko Station 7:00
・ If you are arriving by train, please let us know the estimated time of arrival at Tobu Nikko Station when you apply.
・ If you are driving, there is a coin parking lot near Tobu Nikko Station.
* Please gather after changing clothes.
* From the meeting place, we will drive to the field by NAOC car.
Time Required:
Approximately 6 hours (experience time in the field)
End Time:
Tobu Nikko Station around 14:00
* Please note that the end time may be slightly different.
Course distance:
About 10km
* Walk on the snow surface along forest roads and streams. This course is suitable for healthy participants.
Fee:
¥ 15,000 (+¥ 500 Insurance fee)
* Payment will be by credit card. After confirming your reservation, we will send you a bill from Square's payment system.
Please complete the procedure as soon as you receive the invoice.
Booking:
Please contact us at [email protected] with the following details:
・ Participating tour name
・ Participants names
・ Number of people
・ e-Mail address
・ Phone number
・ Address
・ Number and size of the rental items
Included in the fee:
・ Guide fee
・ Crampons (10 claws)
・ Stocks
・ Helmet
・ Cushion
・ Insurance fee
・ Consumption tax
What to Bring:
・ Jacket and pants that are cold, windproof, and waterproof (ski wear is also acceptable)
・ Inner clothing with high heat retention (it is preferable to have something that can regulate body temperature and is easy to put on and take off)
・ Inner that keeps warm and dries quickly (chemical fibers are desirable)
・ Climbing shoes or snow boots (rental available ¥ 1000)
・ Down jacket (mainly worn during breaks as it will get quite cold)
・ Gloves
・ Knit cap
・ Sunglasses or goggles
・ Ruck sack (to keep your clothes, drinks, belongings, etc)
・ Snacks/light meal, and drinks (preferably both hot and cold)
[Paid rental]
Snow boots: ¥ 1,000 – Snow wear top and bottom set: ¥ 2,000 – Gloves: ¥ 500
* If you would like to rent them, please let us know at the time of booking.
Who Can Join:
Junior high school students and above
Terms & Conditions:
2 people or more
It may be canceled due to wind and snow.
In case of cancellation, we will we base this decision on the weather forecast and the condition of the field, and will make an effort to contact you by 7pm the day before the tour. However, tours can be canceled at short notice for reasons of safety or other natural conditions. Please consider this before applying.
If a tour is canceled due to weather conditions, the cost is refunded or you can change your reservation to another day.
Tour Schedule
(Please note that it may be slightly different)
07:00
Meeting / Reception at Tobu Nikko Station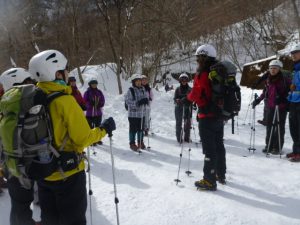 07:30
Lecture
We will get to the starting point by NAOC car.
After that, we will have a lecture and a warm up.
07:40
Start
Let's go to Unryu Ravine!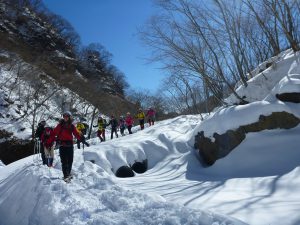 8:00
Snow mountain hike
One of the attractions of this tour is snow mountain trekking.
We will continue to go deeper on the snowy road.
9:00
Wearing crampons
Wear crampons at the entrance to the valley.
NAOC uses the one with 10 claws!
10:00
Crossing
We will walk across the river several times before reaching Unryu Ravine.
First timer? Don't worry, we will support you for a great moment of excitement!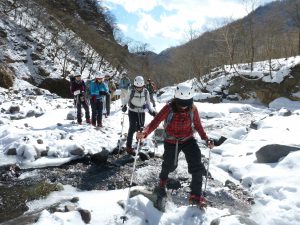 11:00
Unryu Waterfall
This waterfall, which became the name of the valley, is 120m high!
It is a wonderful icefall.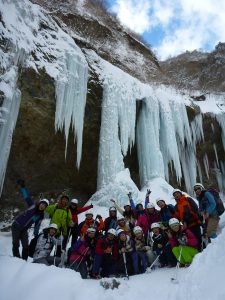 11:30
Lunch time
We'll have lunch after leaving the valley. Please be careful not to get cold!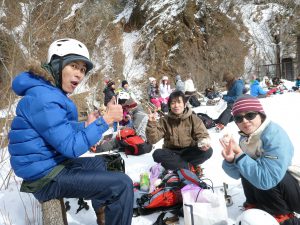 12:00
Descending
Once we eat, we will go down the mountain.
13:30
Arrival at the gate. We are back at the starting point!
From here, we will drive you to the station.
14:00
End
The fun time is over, as we get in the car and go back to Tobu Nikko Station .
There are also Nikko souvenir and sweets shops and one-day hot springs nearby.
If you have any concerns, please feel free to contact us.