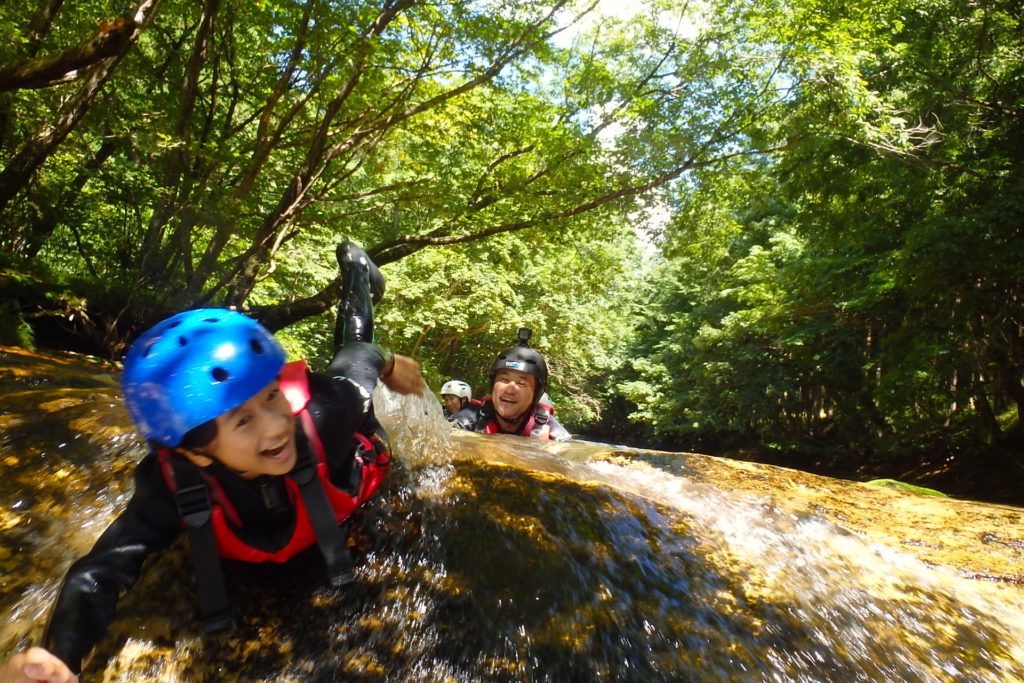 Fun Adventure for the whole family
What is Canyoning?
Canyoning is an activity that goes down a valley with flow of river while enjoying nature.
It is a sport originating in France playing in a valley wearing a wetsuit, and has long been popular in Europe. You can slide on natural water sliders that the power of water creates, slide and jump into big natural pools, swim, and use techniques such as shower climbing as you make your way to the goal. It is a river sport where you can taste a sense of thrill and unity with nature.
Family canyoning at NAOC
Let's get wild!
Swim in clear streams, waterfall pools and rock sliders, and play the ultimate healing adventure, canyoning! Neither laugh nor excitement will stop at natural attractions that appear one after the other. Let's enjoy the ultimate adventure in family.
NAOC is the pioneer to introduce a canyoning tour to Tochigi prefecture! Experience a safe and enjoyable canyoning tour with us!
Season
Mid-July to August 31st
Meeting place and time:
NAOC Kinugawa base (The meeting place may be different when using the pick-up service)
Please refer to this page or e-mail the reception
NAOC Kinugawa base Meeting Time:
Morning Tour: 9:00
Afternoon Tour: 13:00
Time required:
About 3 hours (Approximate time from reception until return)
* Please use hot water showers after the tour.
Fee
Adults ¥ 8000 (+Insurance fee ¥ 500)
Children (6 to 12 years old) ¥ 7000 (+Insurance fee ¥ 500)
Included in the fee:
– Guide fee
– Equipment (life jacket, helmet, wetsuit, hip protector)
– Consumption tax
What to bring:
· Swimsuit (or underwear that can get wet)
※ Please consider it as the inner wear under the wetsuit
· Towel
※ You will use it for changing clothes after the tour
·Shoe rental fee ¥ 300
·Fleece rental fee ¥ 300 (To be used on chilly days etc.)
Other useful belongings to bring in case you have them:
· Glasses band
※ Please understand that we are not responsible for lost or damaged glasses
· Fleece jacket (To be used on chilly days etc)
※ To be worn as an inner clothes under the wetsuits. Rental available for ¥300.
· Climbing shoes (if you have shoes suitable for canyoning)
【Clothes to bring according to the weather】
· Inner of synthetic fiber such as rush guard (as inner for chilly days)
· Inner of synthetic fiber such as tights and leggings (as inner for chilly days)
Who can join?
Elementary school students and above (anyone can join this tour but its main audience is families with elementary school students)
People with no canyoning experience are welcome. People in good health.
※ Participation of those who are drunk, hangover, or pregnant will not be allowed.
Terms & Conditions:
Tours will be held for 2 people or more.
We will hold it even in rainy weather. However, it may be canceled if there is a risk of river water rise and dam release due to typhoon or heavy rain.
Pick-up place and time:
Meeting place for pick-up: Kinugawa Onsen Station in front of the Tourist Information Center, opposite the station.
Morning Tour 8:40
Afternoon Tour 12:20
(If you wish to be picked up, please let us know at the time of reservation)
Course Introduction
HAPPY – Happy Canyon
This course is set in a beautiful sliding floor made of one rock. It is an adventure course surrounded by beauty, in which we will enjoy sliding, flowing and swimming! We will guide you to the most popular river expedition. Of the 4 canyoning courses offered at NAOC, elementary school students can only participate in this one.
* Please note that Happy tour is done with family support accompanying elementary school students. The course distance is set shorter than the course distance for adults.
Family Canyoning Tour schedule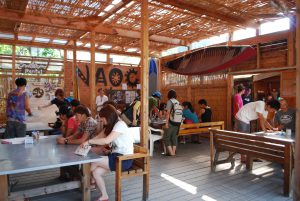 1: Meeting at NAOC base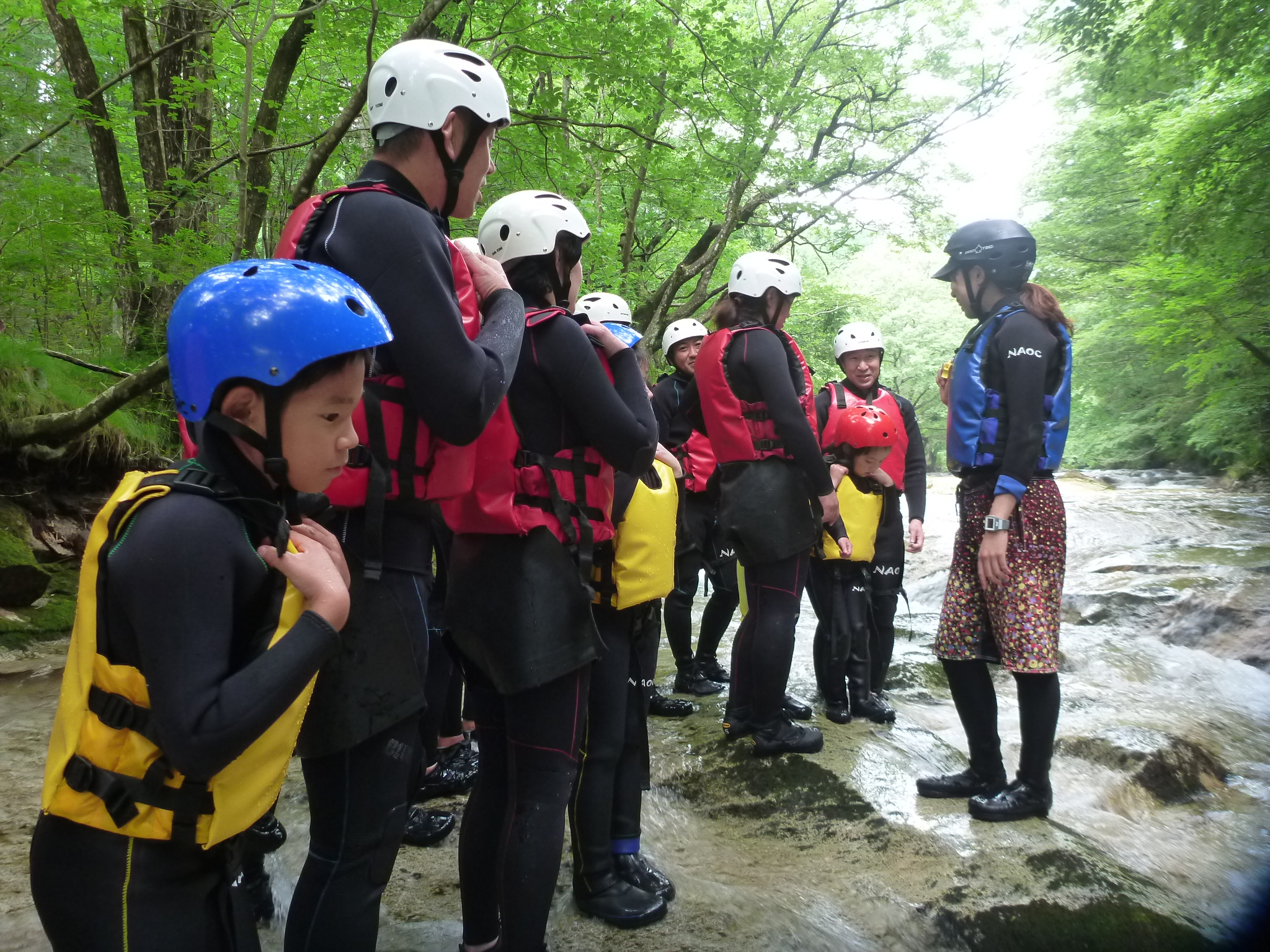 2: Bus ride to the Starting Point
Briefing before the start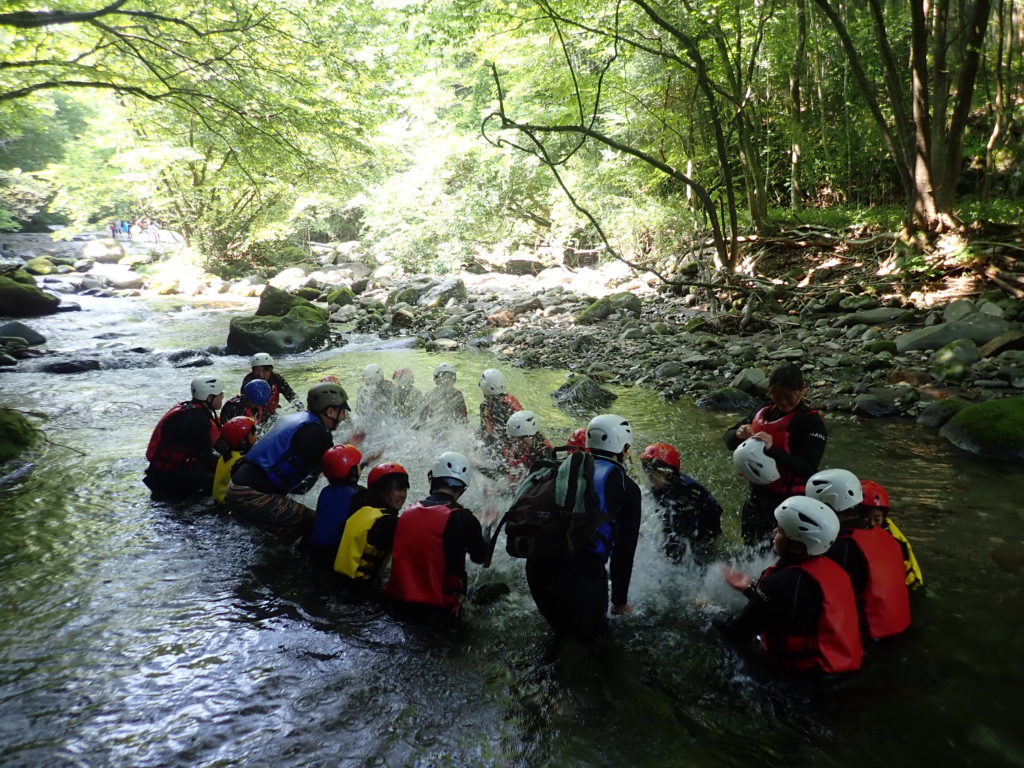 3: Canyoning start!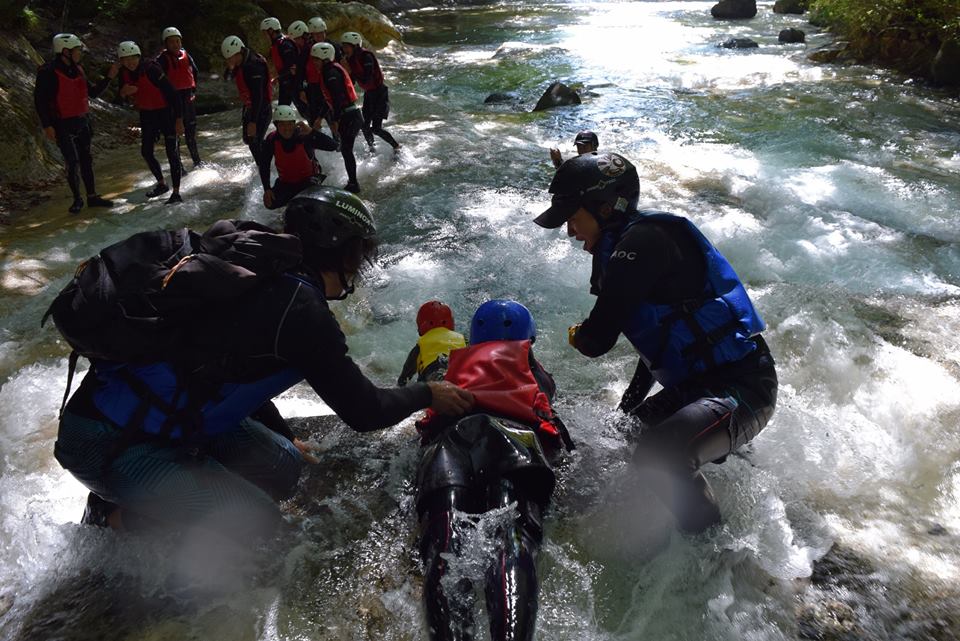 Head-first sliding on a slider made of rock!!!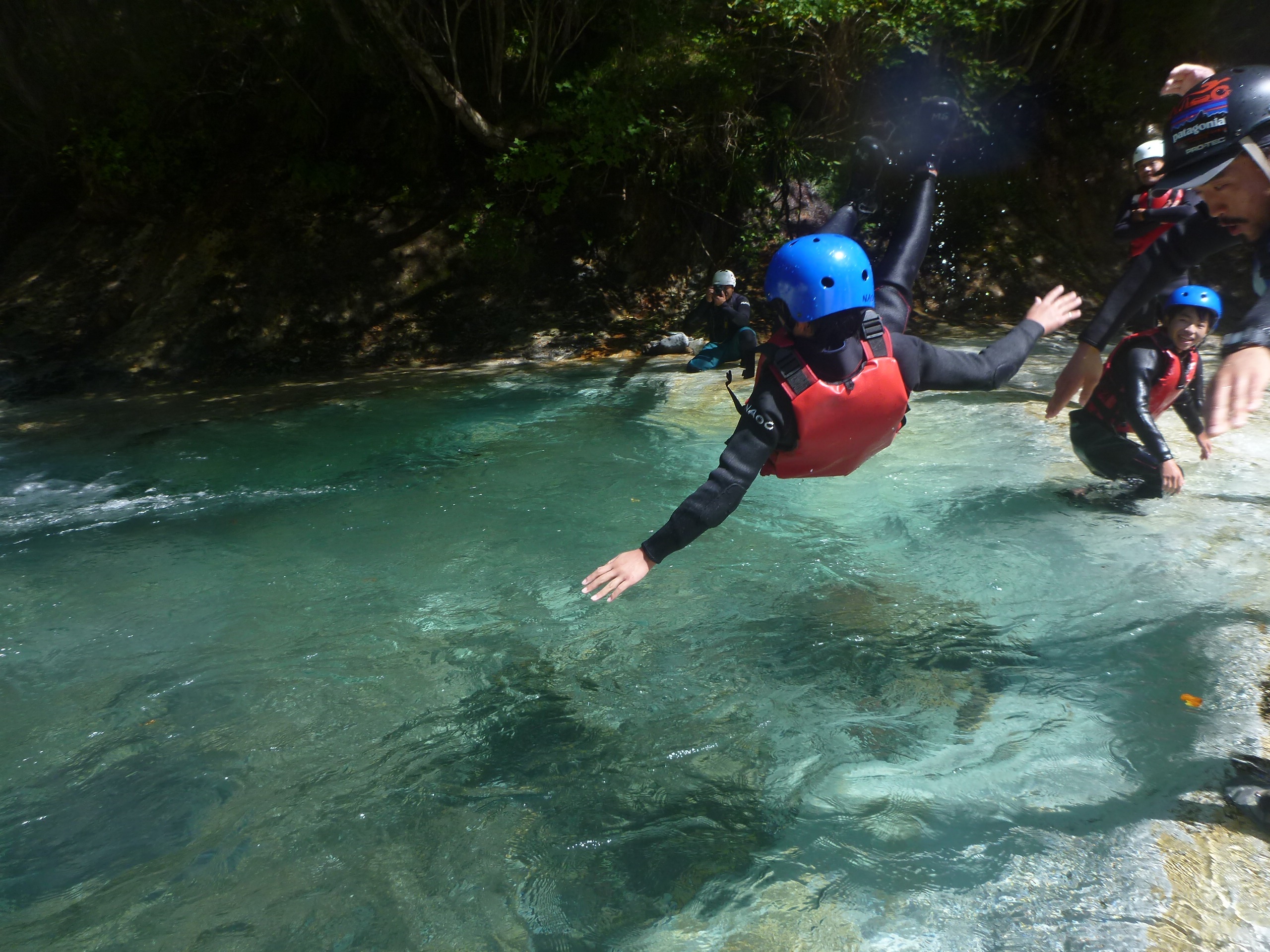 Dive into a natural pool!!!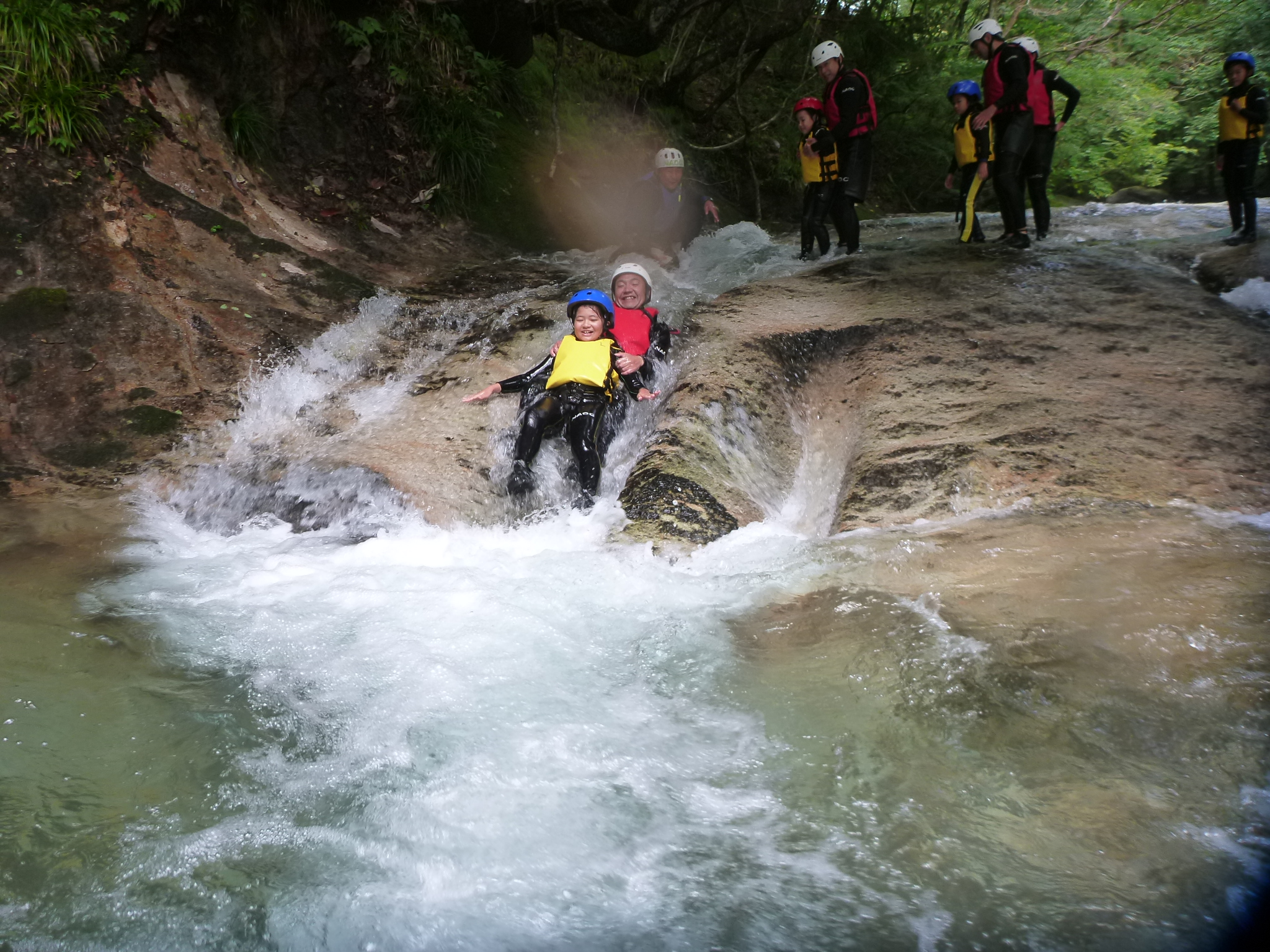 Parents can enjoy sliding with their children!
We will end with plenty of time for playing in the clear water!!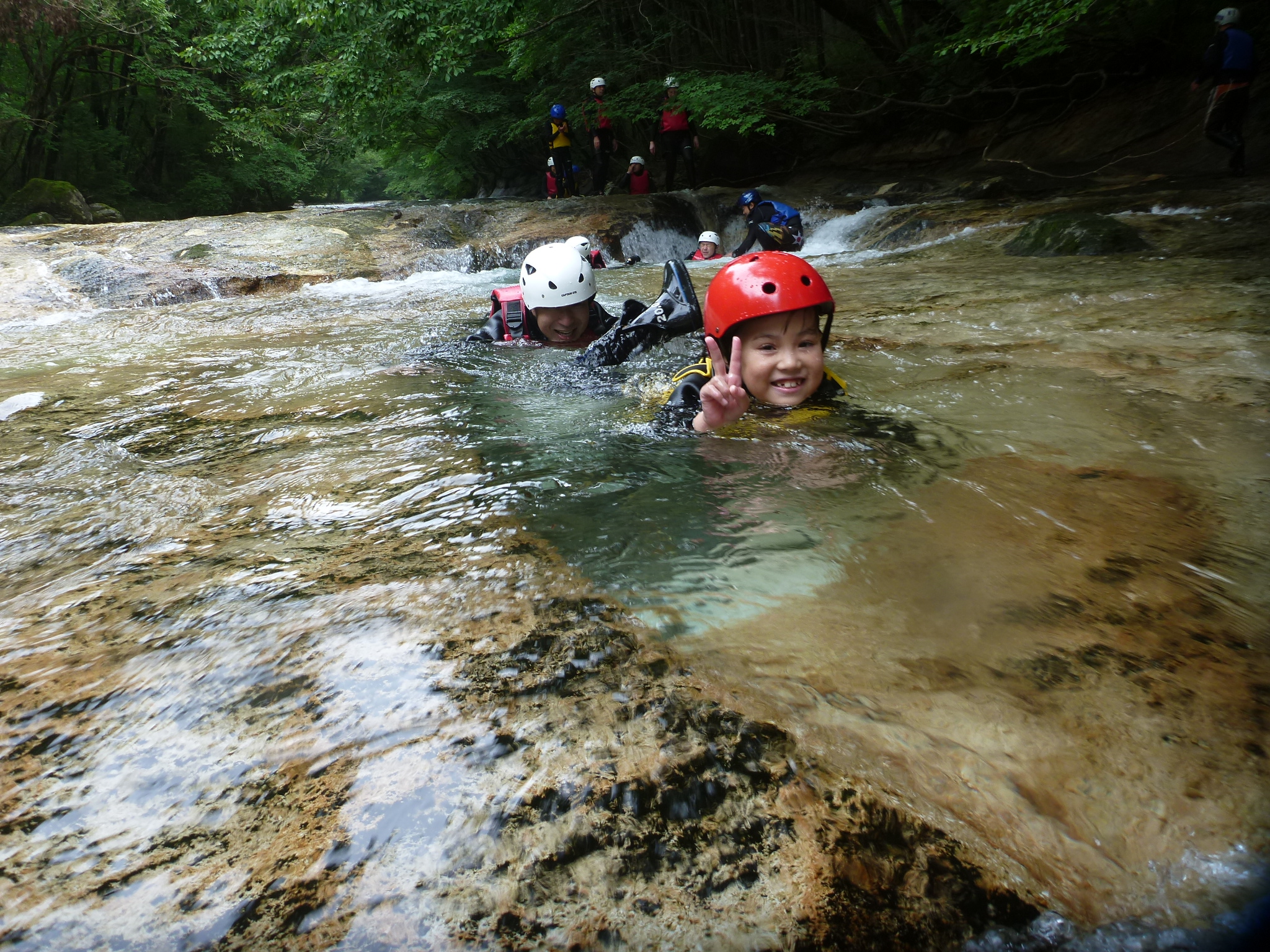 4: End of Canyoning
We return to the base on NAOC's bus.
5: Tea Time & Goodbye
12:00 (Morning Tour) or 16:00 (Afternoon Tour)