What is an air board?
Born in Switzerland, it's already popular in Europe and a hot topic in Japan.
This is a new type of activity where you get on a rubber board (inflated with air) while lying face down and slide down the mountain freely. There is an edge on the bottom of the board so you can turn! By receiving the lecture, you can immediately learn how to turn and stop and enjoy it easily.
NAOC Oku-Nikko Airboard & Snowshoeing
In the winter, Oku-Nikko is wrapped in powder snow and Nikko National Park is a great field to play in the snow. Put on your snowshoes, grab an airboard and let's start. We will walk uphill and through flat snowfields using the snowshoes. On the downhill slope, you can ride on the air board and slide down. You can enjoy the thrill of slipping through the trees and observing the terrain.
Season:
January 9 to late March, 2024
Meeting Place and Time:
09:30
NAOC NIKKO BASE
3-11 Honcho, Nikko City
* If you come by train, we can pick you up at Tobu Nikko Station. (Pick-up time is 9:15)
* Those who gather at NAOC Nikko Base and Tobu Nikko Station will be picked up and dropped off at NAOC Nikko Base and Tobu Nikko Station after the tour.
10:00
ZEN RESORT NIKKO
2482 Chugushi, Nikko City
* You can change your clothes.
* From the meeting place, we will drive to the field by NAOC car.
* Lunch is also available upon request (Extra charge)
https://www.zen-nikko.com
* Please contact us if you would like to pick you up at Yumoto Onsen (around 10:00)
Time Required:
2.5 hours (experience time in the field)
End Time:
ZEN RESORT NIKKO around 13:30
Nikko Base, Nikko Station around 15:00
* Please note that the end time may be slightly different.
Fee:
Adults ¥ 8,500 (+ insurance premium ¥ 500)
Elementary school students ¥ 7,000 (+ insurance premium ¥ 500)
* Payment will be by credit card. After confirming your reservation, we will send you a bill from Square's payment system.
Booking:
Please contact us at [email protected] with the following details:
・ Participating tour name
・ Participants names
・ Number of people
・ e-Mail address
・ Phone number
・ Address
・ Number and size of the rental items
Included in the fee:
・ Guide fee
・ Air board
・ Snowshoes
・ Helmet
・ Insurance fee
・ Consumption tax
What to bring:
・ Jacket and pants that are cold, windproof, and waterproof (ski wear is also acceptable)
・ Inner clothing with high heat retention (it is preferable to have something that can regulate body temperature and is easy to put on and take off)
・ Inner that keeps warm and dries quickly (chemical fibers are desirable)
・ Climbing shoes or snow boots (rental available ¥ 1000)
・ Down jacket (mainly worn during breaks as it will get quite cold)
・ Gloves
・ Knit cap
・ Sunglasses or goggles
・ Ruck sack (to keep your clothes, drinks, belongings, etc)
・ Snacks/light meal, and drinks (preferably both hot and cold)
[Paid rental]
Snow boots: ¥ 1,000 – Snow wear top and bottom set: ¥ 2,000 – Gloves: ¥ 500
* If you would like to rent them, please let us know at the time of booking.
Who can join:
Elementary school students and above
Terms & Conditions:
2 people or more
It may be canceled due to wind and snow.
In case of cancellation, we will we base this decision on the weather forecast and the condition of the field, and will make an effort to contact you by 7pm the day before the tour. However, tours can be canceled at short notice for reasons of safety or other natural conditions. Please consider this before applying.
If a tour is canceled due to weather conditions, the cost is refunded or you can change your reservation to another day.
Tour Schedule
(Please note that it may be slightly different)
Lecture (10:30)
Wear a helmet and snowshoes and start the lecture on the open hill!
You will get on the air board and learn how to turn and stop safely.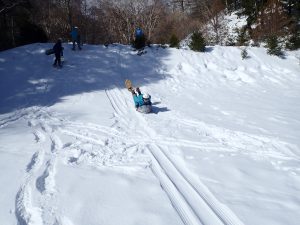 Start (11:00)
Let's go into the wilderness when you feel confident!
Under the guide lecture, identify the ups and downs of the field! Let's give it a try!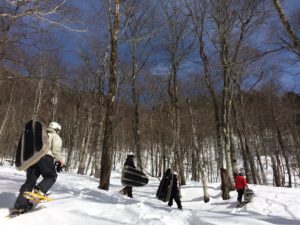 [Enjoy the air board in the primeval forest]
It's also a thrilling moment to identify the slopes of untouched terrain and think about creating a course together! (Unlike ski resorts, it is not an artificial slope). If you increase the difficulty level by slipping through the trees and jumping, the excitement level will be max!
On the main slope during the course, you can enjoy a maximum of 20 to 30 meters. Depending on the conditions, you can go up and slide many times!
[You can also enjoy snowshoes]
A spectacular view of the untouched nature of Oku-Nikko and the fluffy powder snow that piles up there. Oku-Nikko has a high altitude, so it is said to have the same climate as Hokkaido, even though it is in the Kanto region. Snowshoe hiking in the winter of Oku-Nikko for a distance of about 1.5 to 2 km.
The course is based on gentle up and downs with few steep climbs.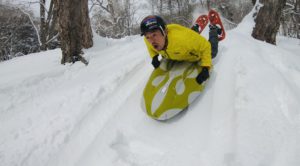 Afternoon (12:00)
After lunch, climb a small slope and keep playing!
Goal (12:30)
The fun time is over, as we get in the car and go home.
(End time: Oku-Nikko at 14:30 or Nikko Base/Station at 15:00)
You can have lunch at ZEN RESORT NIKKO.
There are also cafes and souvenirs near Nikko Station.
If you have any concerns, please feel free to contact us.