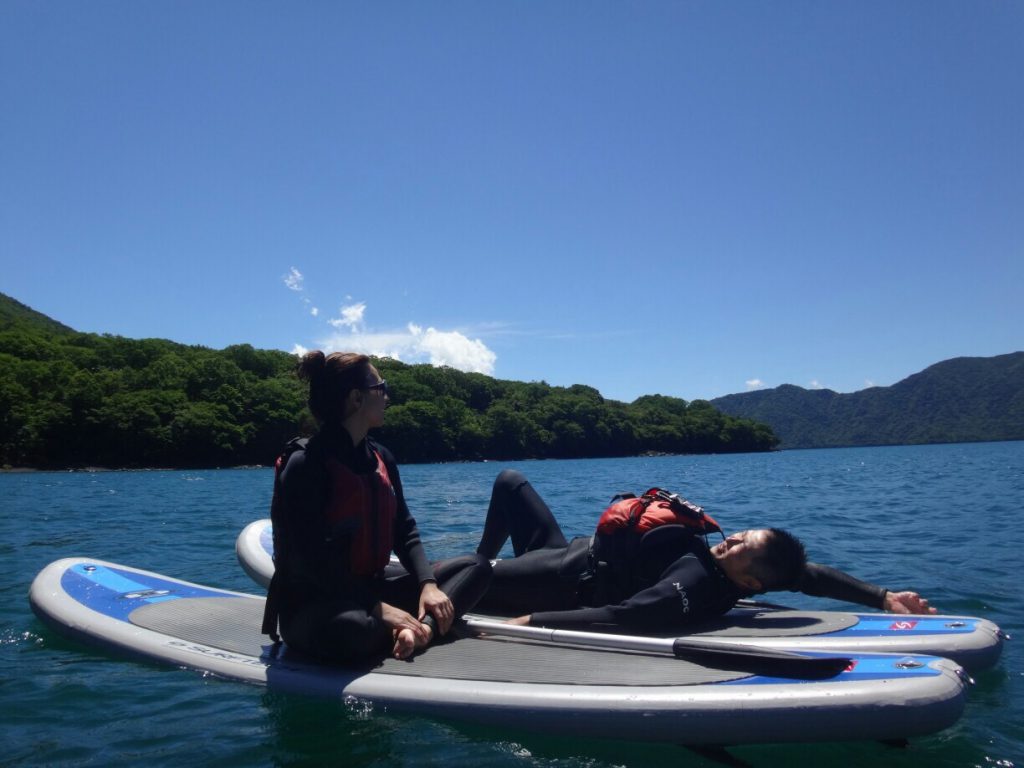 SUP – in Kinugawa –
SUP is an acronym for Stand Up Paddle surfing. Also known as paddle-boarding, it is an activity where you stand on a large surfboard and paddle yourself.
It is an activity that started as a leg training for riding big waves in Hawaii. It is characterized by stability and easy propulsion.
NAOC's SUP will guide you to the finest premium space of the Kinugawa gorge.
The area to be used has a calm flow, so even first-timers can participate with peace of mind.
Practice at the starting point. Once you get used to how to row and how to play, continue cruising further. The feeling of controlling the board by manipulating the paddle with your own power, and the feeling of letting yourself go with the flow and the wind is exceptional!
Sometimes I stop by the beach, swim, and jump off the rocks. Fully enjoy the freedom of SUP + α and a highly satisfying time.
Enjoy an elegant SUP tour to your heart's content at the mysterious water lounge of Kinugawa surrounded by deep rock walls!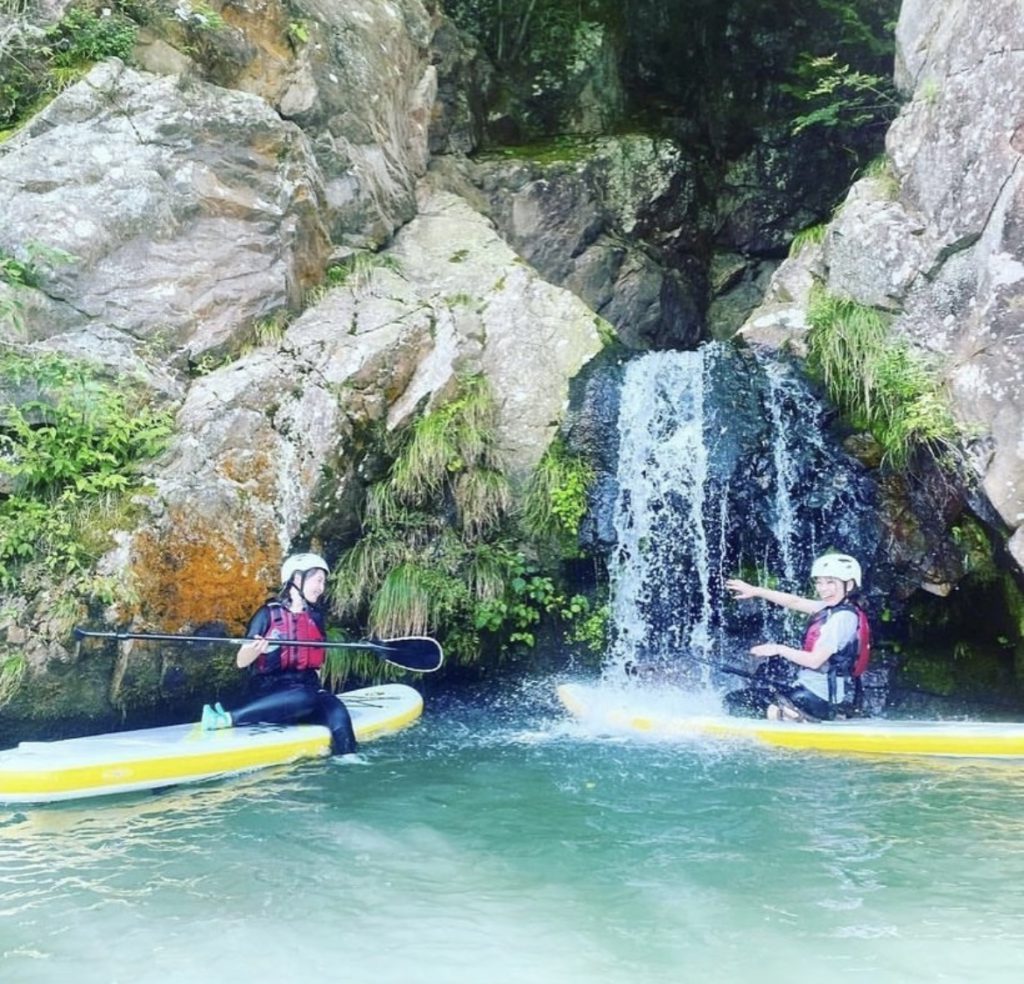 season
Early May to October
The meeting place
NAOC Kinugawa Base
871-2 Kinugawa Onsen Taki, Nikko City, Tochigi Prefecturemeeting
time
Morning session 09:00
Afternoon session 13:00
Morning session 08:40 pick-up
Afternoon session 12:20 pick-up
pick-up Kinugawa Onsen Station Tourist Information Center
※It is free of charge.
*Please be sure to let us know at the time of application if you would like to be picked up.
required timeabout 3 hours
*Time from arrival to departure.
price
¥8,000 (+¥500 premium)
Price includes
・ Guide fee
・ Equipment set (SUP, paddle, life jacket, wet suit)
・ Consumption tax Belongings
Preparation
・Swimwear or underwear that can get
wet *Wear inside a wetsuit.
・Shoes that can get wet
*As a general rule, please wear shoes with fixed straps holding the heels. Flip-flops are not allowed.
・Bath towel
*Used when changing clothes after the tour.《Things that are good to have according to the climate and weather》
・T-shirts and shorts that can get wet
*Synthetic materials are preferable. It is recommended to participate in light clothing instead of a wet suit during the hot midsummer season.
・ Rash guard
*Long-sleeve, sun protection.
・Fleece and inner top and bottom
*Synthetic fiber material is preferable. Wear it under a wetsuit on chilly days in spring and autumn.
・Drinks
*You can bring anything with a lid during the tour.
Others
・Glasses band
*To prevent loss or participate with contact lenses
・Waterproof camera or waterproof mobile case
*Can be attached to a life jacket. We recommend one with a carabiner or strap.
[Paid rental]
River shoes/sandals: ¥300 (Approx. 18cm to 30cm)
Fleece: ¥300
There is no objective compensation in the insurance you subscribe to at our company. Please be careful when handling the items you bring with you.
NAOC's Commitment
1. The wetsuits used on the tour are comfortable original suits with thickness suitable for the three seasons of spring, summer, and autumn.
2. River shoes and sandals are available according to the weather. Two types: montbell's other shoe type or Teva's river sandals!
★When handing over the product, it is delivered dry.
Participation conditionsJunior high school students and above
are welcome.*Participants who are drunk on the day, have a hangover, or are pregnant will not be permitted to participate.
*Because of the buoyancy of the board, the weight must be less than 90kg. Please note.Terms&ConditionsIt will be held with 2 or more people.
Rain or shine. However, it may be canceled if there is a possibility of river flooding or dam discharge due to typhoon or torrential rain.
*In case of cancellation, we will comprehensively judge the weather forecast and the condition of the field, and will contact you by 19:00 the day before.
However, since it will be a matter of nature, there may be cases where sudden cancellation is unavoidable.
Please understand this point and apply. We will refund the full amount when we contact you to cancel or cancel due to weather etc.
Cancellation Policy:
A fee will be charged unless the tour is cancelled 8 or more days before the tour date.
Please see below:
7 to 2 days prior to your scheduled tour date, 30% of the total amount will be charged.
1 day prior to your scheduled tour date, 50%
On your scheduled tour date or No show, 100%
Reservations/InquiriesPlease call us to apply for SUP Tour.
Email: [email protected]
Phone: 0288-70-1181