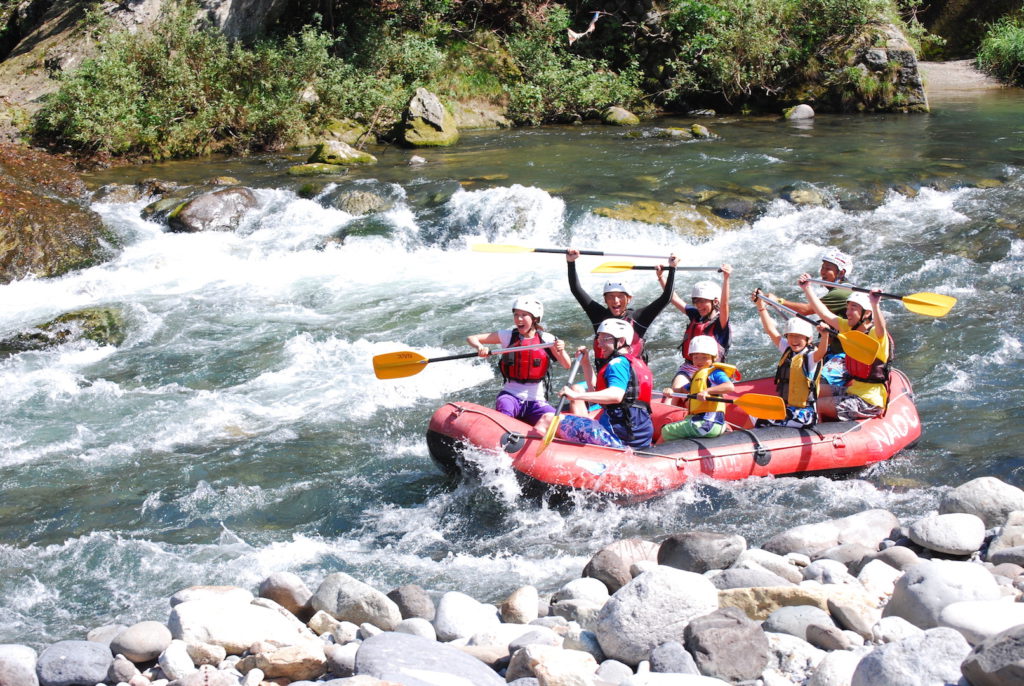 Why join us?
1. The open and cozy NAOC facilities are popular.
2. Comfortable to wear, fully dry and clean wetsuits from small child's size, and complete equipment.
3. Guides with great individuality! Proper safety measures!
(Safety measures: Tour leaders support the tours, guides with more than 3 years of experience, rescue qualifications, international rafting qualifications, etc.)
4. NAOC is close to the world sightseeing spot "Nikko"! Together with rafting, world heritage, national parks, hot springs and more, it is a fulfilling journey.
5. The extraordinary experience of rafting is perfect for deepening bonds!
The NAOC guide will support you – from family trips, friends, couple etc. and private trips to school, employee and group trips.
Season
From April to November
Meeting place and time:
NAOC Kinugawa base (The meeting place may be different when using the pick-up service)
Please refer to this page or e-mail the reception
NAOC Kinugawa base Meeting Time:
Morning tour at 9:00
Afternoon tour at 13:00
(Once a day at 10:00 in November)
Time required:
About 3 hours (Approximate time from reception until return)
Fee:
Adults ¥ 8300 (+ insurance ¥ 500)
Elementary school students ¥ 7000 (+ insurance ¥ 500)
Included in the fee:
Guide fee
– Equipment (life jacket, helmet, wetsuit)
– Consumption tax
What to bring:
· Swimsuit (or underwear that can get wet)
※ Please consider it as the inner wear under the wetsuit
· Shoes that can get wet (things that can be fixed to the heel such as sports sandals, sneakers, etc.)
※ Beach sandals are not acceptable. There is also rental available for ¥300.
· Towel
※ You will use it for changing clothes after the tour
· Drinks (PET bottles etc. to prevent dehydration)
※ It is possible to bring it on the boat. There is also a vending machine available.
· Glasses band
※ Please understand that we are not responsible for lost or damaged glasses
【Clothes to bring according to the weather】
* T-shirt and shorts that can get wet (synthetic fiber is preferable)
※ Rainy season – Hot days in early September. You can also join the tour without a wetsuit.
* Rash guard (long sleeves, in order to prevent sunburn).
* Fleece jacket (in chilly days of spring and autumn)
※ To be worn as an inner clothes under the wetsuits. Rental available for ¥300.
[NAOC's commitment]
1. Wetsuits used for tours are suitable, soft and original.
2. Two kinds of river shoes or sandals are prepared according to the water temperature (Montbell river shoes or Teva's river sandals)
Who can join?
6 years old and above (elementary school students accompanied by parents). People with no rafting experience are welcome. People in good health.
※ Participation of those who are drunk, hangover, or pregnant will not be allowed.
Terms & Conditions:
Tours will be held for 2 people or more.
We will hold it even in rainy weather. However, it may be canceled if there is a risk of river water rise and dam release due to typhoon or heavy rain.
※ In the case of cancellation: we base this decision on the weather forecast and the condition of the river, and will make an effort to contact you by 7pm the day before the tour. However, tours can be canceled at short notice for reasons of safety or other natural conditions. If a tour is canceled due to weather conditions, the cost is refunded or you can change your reservation to another day.
Pick-up place and time:
Meeting place for pick-up: Kinugawa Onsen Station in front of the Tourist Information Center, opposite the station.
Morning Tour 8:40
Afternoon Tour 12:20
(Once a day at 9:50 in November)
(If you wish to be picked up, please let us know at the time of reservation)
Rafting Tour Schedule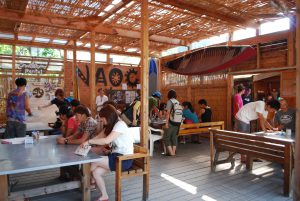 1: Meeting at NAOC base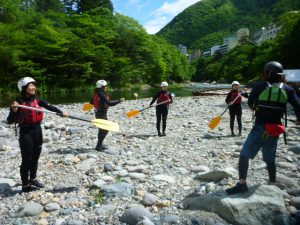 2: Bus ride to the Starting Point
Briefing before the start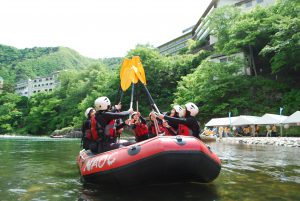 3: Rafting starts!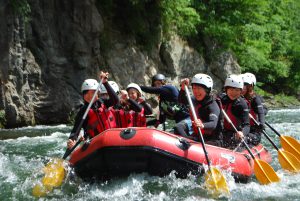 Prepare to get wet in the splashing water! Let's push it forward in the enchanted beautiful scenery.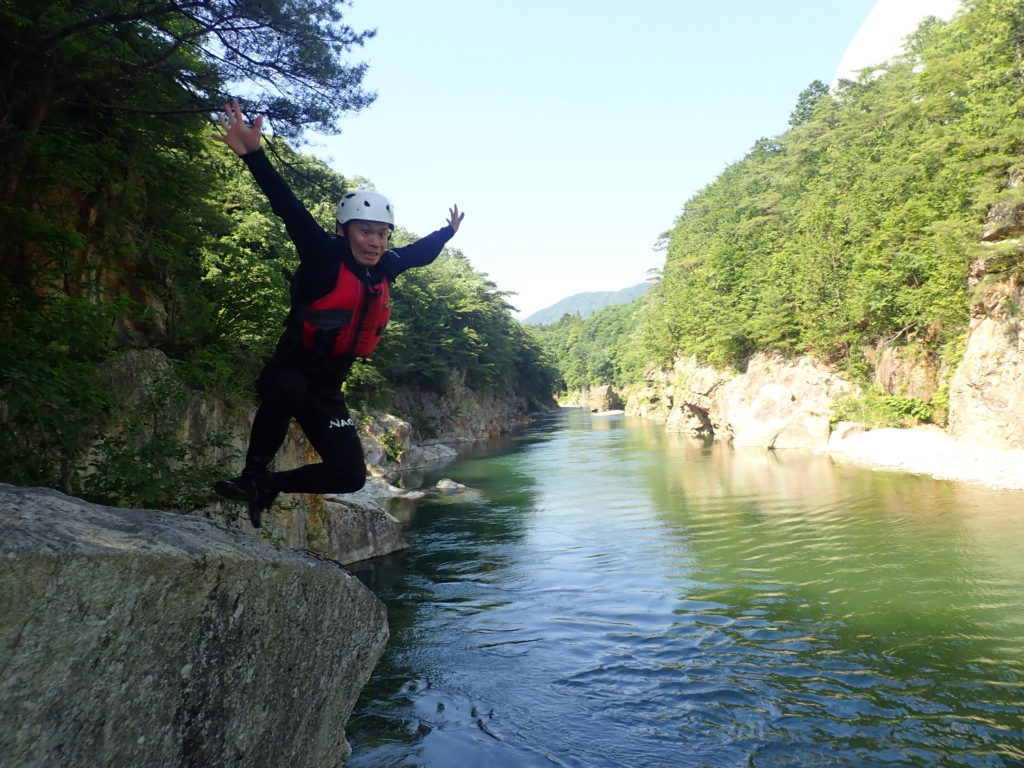 You can also jump off a popular cliff.
4: Rafting ends
We return to the base by NAOC's bus.
5: Tea Time & Goodbye.