What are snowshoes?
One of the snow walking tools for walking comfortably on the snow, also known as western snowshoe.
Have you ever experienced that when you try to walk in deep snow, your feet sink and it is difficult to walk?
Therefore, by wearing snowshoes, you can walk as if your feet were floating on the snow without sinking.
Since it can be easily used by children and adults, it has become a popular winter activity in various places in recent years.
Why don't you enjoy hiking in the virgin forest, which is completely white, using snowshoes?
NAOC Oku-Nikko Snowshoeing
The real powder snow is here! Oku-Nikko is one of the few places in Honshu where you can meet high-quality powder snow. If you walk in the virgin forest, which is completely white, with snowshoes and take a closer look at the area…
A part of nature such as a single bridge of fallen trees hanging over a swamp and a snow slider on a steep slope becomes a fun attraction.
There are many footprints of wild animals such as deer, rabbits, squirrels, and foxes all over the place! If you're lucky, you may be able to spot them. Sometimes you may discover something by stopping, feeling the crisp wind, and listening to the sounds of nature.
There are lots of charms even in the harsh cold weather when it snows! We will guide you to a tour where you can experience the whole nature.
Season:
January 9 to late March, 2024
Meeting Place and Time:
09:30
NAOC NIKKO BASE
3-11 Honcho, Nikko City
* If you come by train, we can pick you up at Tobu Nikko Station. (Pick-up time is 9:15)
* Those who gather at NAOC Nikko Base and Tobu Nikko Station will be picked up and dropped off at NAOC Nikko Base and Tobu Nikko Station after the tour.
10:00
ZEN RESORT NIKKO
2482 Chugushi, Nikko City
* You can change your clothes.
* From the meeting place, we will drive to the field by NAOC car.
* Lunch is also available upon request (Extra charge)
https://www.zen-nikko.com
* Please contact us if you would like to pick you up at Yumoto Onsen (around 10:00)
Time Required:
3 hours (experience time in the field)
End Time:
ZEN RESORT NIKKO around 14:30
Nikko Base or Nikko Station around 15:30
* Please note that the end time may be slightly different.
Fee:
Adults ¥ 8,000 (+ insurance premium ¥ 500)
Elementary school students ¥ 6,500 (+ insurance premium ¥ 500)
* Payment will be by credit card. After confirming your reservation, we will send you a bill from Square's payment system.
Booking:
Please contact us at [email protected] with the following details:
・ Participating tour name
・ Participants names
・ Number of people
・ e-Mail address
・ Phone number
・ Address
・ Number and size of the rental items
Included in the fee:
・ Guide fee
・ Snowshoes (or crampons, depending on the situation on the day)
・ Stocks
・ Insurance fee
・ Consumption tax
What to bring:
・ Jacket and pants that are cold, windproof, and waterproof (ski wear is also acceptable)
・ Inner clothing with high heat retention (it is preferable to have something that can regulate body temperature and is easy to put on and take off)
・ Inner that keeps warm and dries quickly (chemical fibers are desirable)
・ Climbing shoes or snow boots (rental available ¥ 1000)
・ Down jacket (mainly worn during breaks as it will get quite cold)
・ Gloves
・ Knit cap
・ Sunglasses or goggles
・ Ruck sack (to keep your clothes, drinks, belongings, etc)
・ Snacks/light meal, and drinks (preferably both hot and cold)
[Paid rental]
Snow boots: ¥ 1,000 – Snow wear top and bottom set: ¥ 2,000 – Gloves: ¥ 500
* If you would like to rent them, please let us know at the time of booking.
Who can join:
Elementary school students and above (a course with gentle up and downs)
Terms & Conditions:
2 people or more
It may be canceled due to wind and snow.
In case of cancellation, we will we base this decision on the weather forecast and the condition of the field, and will make an effort to contact you by 7pm the day before the tour. However, tours can be canceled at short notice for reasons of safety or other natural conditions. Please consider this before applying.
If a tour is canceled due to weather conditions, the cost is refunded or you can change your reservation to another day.
Tour Schedule:
(Please note that it may be slightly different)
Start (10:30)
After completing the lecture and preparatory exercises and wearing snowshoes …
Let's go to the primeval forest of Oku-Nikko! 
The course distance is about 2.5 to 3 km, walking on gentle up and downs without steep climbs.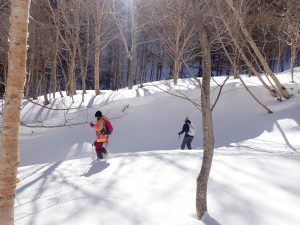 Walk (11:00)
The pure white snow field with no footprints feels good!
[Charm of Oku-Nikko Snowshoes]
NAOC's Oku-Nikko Snowshoes are held in the unexplored region of the Oku-Nikko area from the Nikko Mountains to the vicinity of Konsei Toge. A spectacular view of untouched nature and fluffy powder snow. Oku-Nikko has a high altitude, so it is said to have the same climate as Hokkaido, even though it is in the Kanto region. The birch forest with fluffy powder snow is a mysterious and wonderful sight.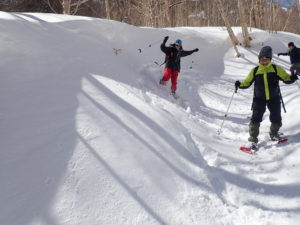 Slide (12:00)
Let's slide on a natural slide on a steep slope! This is surprisingly thrilling!
[Enjoy playing in the snow]
Jump towards a natural slide on a steep slope of fresh snow!
In addition to snowshoe hiking, you can also enjoy snow play events such as "snowshoe", "jump to fresh snow", and "animal tracking (animal footprint tracking, fox, squirrel, weasel, ten, etc.)".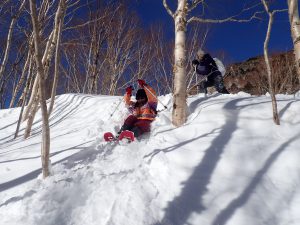 Goal (13:30)
The fun time is over, as we get in the car and go home.
(End time: Oku-Nikko at 14:30 or Nikko Base/Station at 15:30)
You can have lunch at ZEN RESORT NIKKO.
There are also cafes and souvenirs near Nikko Station.
If you have any concerns, please feel free to contact us.